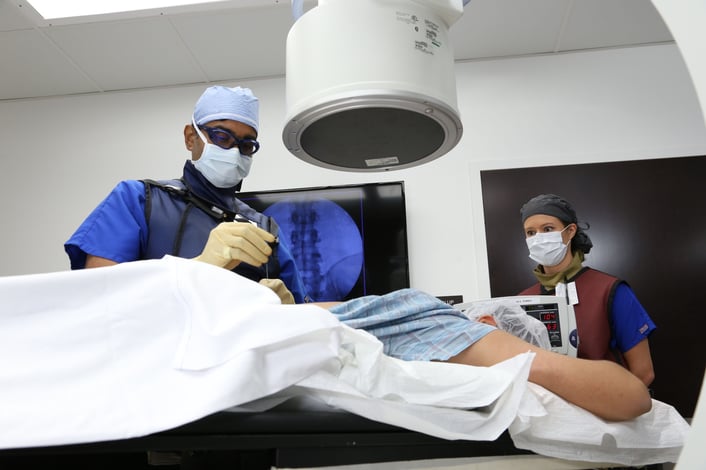 Surgery, the one word that either scares people away, or is what they believe they need to cure their debilitating back or neck pain. Surgery is not always the answer and should be considered a last resort. At Deuk Spine Institute our goal is to get a patient out of pain, not force them to undergo expensive surgical procedures that may not be right for them. We believe that every patient deserves freedom from pain as soon as possible by offering patients the treatment that is best for their condition.
Before even considering surgery, we perform non invasive interventional pain management procedures which cure most patient's back or neck pain 9 times of 10. In fact only 10% of patients actually require surgery. Many patients come to our practice who have been told by other doctors that they have a herniated disc causing their pain and surgery is their only option. However most of the time this is simply untrue and the actual cause of their pain may be damage to the facet joints in their spine.
The facet joints flank the main spinal column and are the joints connecting the vertebrae together. When these joints are damaged or impaired, symptoms ranging from minor discomfort to severe pain can occur anywhere throughout the spine. Luckily for the majority of patients, facet disease can be cured with interventional pain management procedures which are non invasive and have patients fully recovered within the first 24-48 hours. These procedures are exclusively performed by our 5 time Board Certified IPM Doctor, Bharat Patel MD, in our state-of-the-art Surgery Center of Viera. Unfortunately many patients listen to surgery focused doctors and have surgery when their pain could have been resolved by a simple non invasive pain management procedure.
If you or a loved one are experiencing back or neck pain, don't make the mistake of being pushed into an expensive and invasive surgical procedure when the real cure for your pain could be a non invasive method right around the corner. Call 1-800-FIX-MY-BACK(1-800-349-6922) today and a patient services representative will help you begin your journey towards a pain free tomorrow.