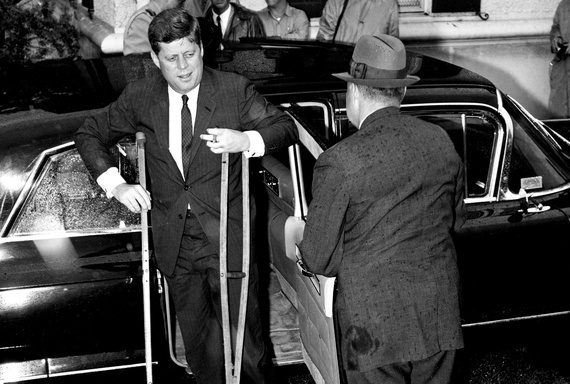 John Fitzgerald Kennedy, the thirty fifth president of the United States, was one of the most famous, yet one of the most unknown sufferers of chronic back pain. According to the Chronic Pain and Fatigue Research Center, chronic lower back pain had an impact on the life and especially the death of the 35th president.
During his service in WW2, JFK damaged his lower back saving the life of a fellow solider. After this incident he had 5 different surgeries, all trying to fix his back or correct the damage the previous ones had done. His fourth surgery was only done to correct the major damage from an infection he had gotten from the third one. Unfortunately, every attempt to fix his back was never successful and only resulted in failed back surgery syndrome every time.
There is even some evidence proving that JFK would have survived his assassination if his back pain had been fixed after the first surgery. "When the first bullet struck him in the back of the neck, his back brace held him erect, allowing the next and fatal bullet to strike the back of his head" says Afton L. Hasset, Psy D, a research scientist at the University of Michigan Health System.
Luckily, for patients today, failed back surgery syndrome is a thing of the past with Deuk Laser Disc Repair and Deuk Spinal Fusion. These surgeries have a 95% success rate and with the Deuk Surgical Warranty every patient will go home pain free. If you or a loved one have been dealing with chronic back or neck pain, call 1-800-FIX-MY-BACK or click here to schedule an appointment today.